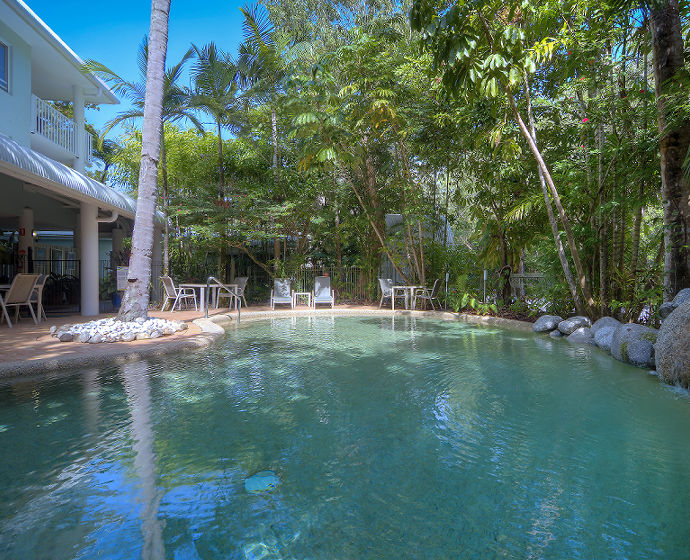 FAQs:
• Will we be able to check-in earlier than 14h00?
We understand that there are certain earlier flights. We will try and assist where possible. Alternatively, we suggest that you book the night before, which will give you earlier access.
• Can I check out after 10h00?
We will try and assist where possible. We do offer a storage facility for your luggage, while you enjoy your last few hours in Port Douglas.
• What happens if I arrive outside reception hours?
We will provide you with written instructions shortly before you arrive via e-mail and the instructions will be left on the reception desk.
• Are there airport transfers available?
Yes there are various companies that offer this service. We have a few preferred suppliers who offer a service that is in line with our expectations, which we can book for you.
• Do I need to bring linen, towels etc?
The apartments are fully self-contained and linen and towels are provided. We offer beach towels for hire at a cost, for the duration of your stay. Face washers are available at an additional cost. Please advise us beforehand if these are required.
• Is car parking available?
Yes we have off-street undercover parking available at no extra cost. For those with high vehicles (over 2.3m) a single parking bay is available.
• How close are the apartments to the village, marina and beach?
We are centrally located on a quiet street – just a short 5 minute walk to Four Mile beach, the marina and to the village which offers an array of restaurants, shopping and entertainment.
• We have a small child or baby. What equipment is available?
We have camp cots, strollers, baby baths and high-chairs available for hire at very reasonable prices.
• I saw the swimming pool is heated. Is that correct?
Yes the naturally-shaded pool is heated overnight to around 28 C degrees in the cooler months.
• Is WiFi free and is it available throughout the complex?
Free Wi-Fi – High Speed Internet throughout the complex.
• Is the bar-b-que available to all?
Yes the bar-b-que is located in the swimming pool enclosure and is free!
• We are touring down from Cape York – can I park my trailer / caravan somewhere?
Yes, there is an open parking bay available. Please advise us in advance should you be needing it.
• Is there a kiddie's play area?
Yes there is a small play area which offers a few small toys to keep the kiddies occupied for a while. We ask that you do not remove the toys from the area, as they are for all to enjoy.
• We have heard so much about the reef and rainforests. Can you offer us advice?
We love offering advice based on guest feedback and our own experience. We have no affiliation to any tour operator and do not charge any additional fee for our service. The cost that the tour operator charges is the same whether you book through us, the information centres or directly with the operator. By booking through us, you would be supporting us locals! We strongly recommend that tours are booked in advance to avoid disappointment.
• Do all the apartments have balconies or a patio?
All the apartments have either a balcony or a patio suitable for enjoying an early morning coffee or a sundowner.
• What clothing do I need?
Temperatures range from around 20C to 25C in winter and around 25C to 33C in summer. The restaurants are generally very casual, so shorts, sandals, flops, boardies, t-shirts, trainers (if you are planning a walk in the beautiful rainforests) are the order of the day.
• Is there an area where I can smoke?
Smoking is not allowed in the apartments and balconies. A smoking area is available downstairs for this purpose.
I have seen on Trip Advisor that there is a fridge for "left-overs". What is this?
Inevitably, when guests leave there are items of food left over. (Vegemite, oil, margarine, jams, tomato sauce, tea, coffee, sugar, salt & pepper etc.) Instead of throwing these away, we have a fridge downstairs where all the left-overs can be left for future guests to enjoy. "Dry" items such as tissues are also available. You are most welcome to help yourself during your stay.
Modern, Spacious
Our Port Douglas Apartments feature spacious private balconies, fully self contained kitchens, unique décor for the tropics, flat screen TV, phone to receive calls, on site parking, pool, BBQ
Central Port Douglas Location
400 metres to everything that Port Douglas offers – stunning 4 Mile Beach, world renown restuarants and cafes, boutique shops, art galleries and the iconic Reef Marina
Value For Money Accommodation
The Port Douglas Outrigger Holiday Apartments are in a central Port Douglas location. Great Tropical Beach Holiday for Families, Couples, Singles.